You've heard about supply shortages. You've read about delivery delays.
This year we're not waiting for the holidays!
Get your shopping done early with our weekly

Each Tuesday, you'll find a different book pairing.
Buy One Book, Get the Other

FREE

Plus

FREE MAILING

on both.
Next: 2-for-1 OFFER for TUESDAY, NOV. 23: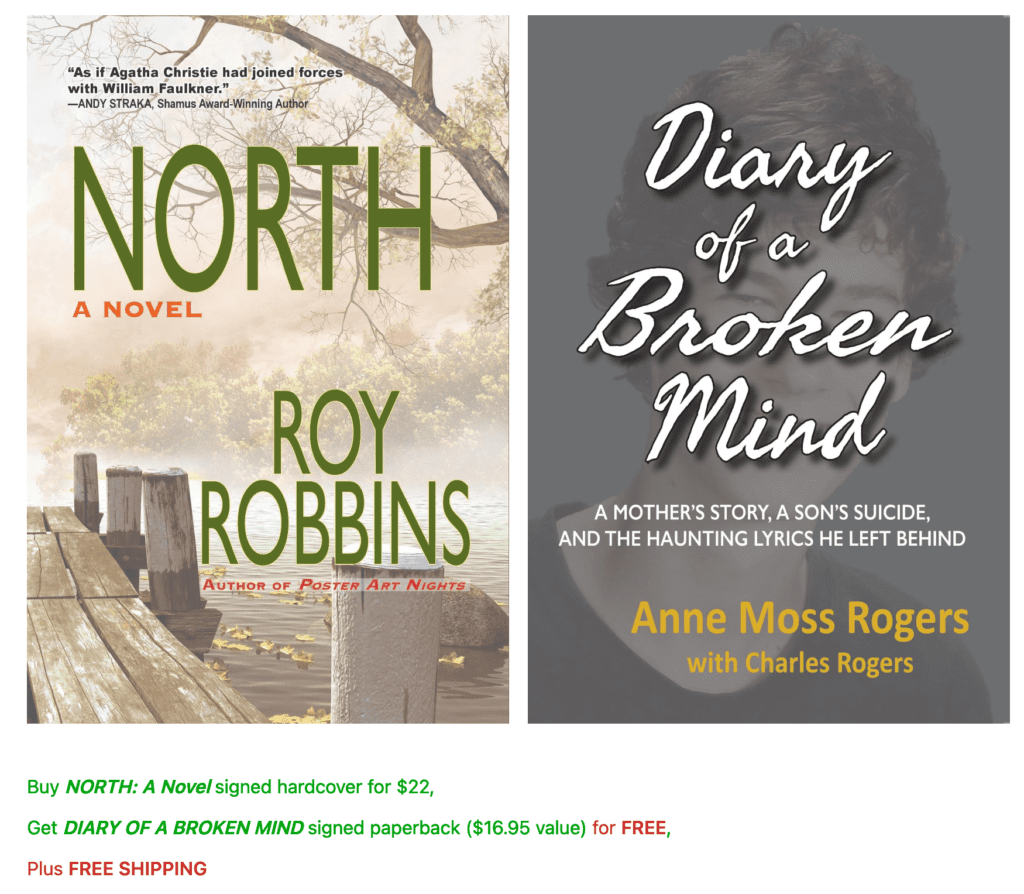 ---
All book purchases receive

FREE STANDARD SHIPMENT

3 or more books now receive

FREE PRIORITY MAIL SHIPMENT
---
New Review for
NORTH
"North is smooth, engaging, and, and . . . is not merely a 'whodunnit' kind of novel. Yes, the murder and other mysteries that follow are the main plot point; but the small town setting adds a layer of interest and charm to the storyline. . . . The characters and their backstories spice up the plot with interesting twists, turns, and, of course, gossip. . . . North is ideal for a lazy evening at home or cozy weekend vacation. . . . [T]his small-town mystery has just enough intrigue and lighthearted spunk to keep the pages consistently turning." READ THE REVIEW at Boomer Magazine.
*
---
Meet the Authors … Virtually
Ray McAllister (new 2nd Edition of Topsail Island: Mayberry by the Sea) discusses the island and the book:
With Quarter Moon Books & Gifts, on YouTube. VIEW VIDEO.
With Fountain Bookstore, via Crowdcast. VIEW VIDEO.
Roy Robbins (North: A Novel) and Charles Oldham (The Senator's Son) share secrets of mystery writing, in fiction and non-fiction, with Fountain Bookstore. Missed it? VIEW VIDEO HERE
---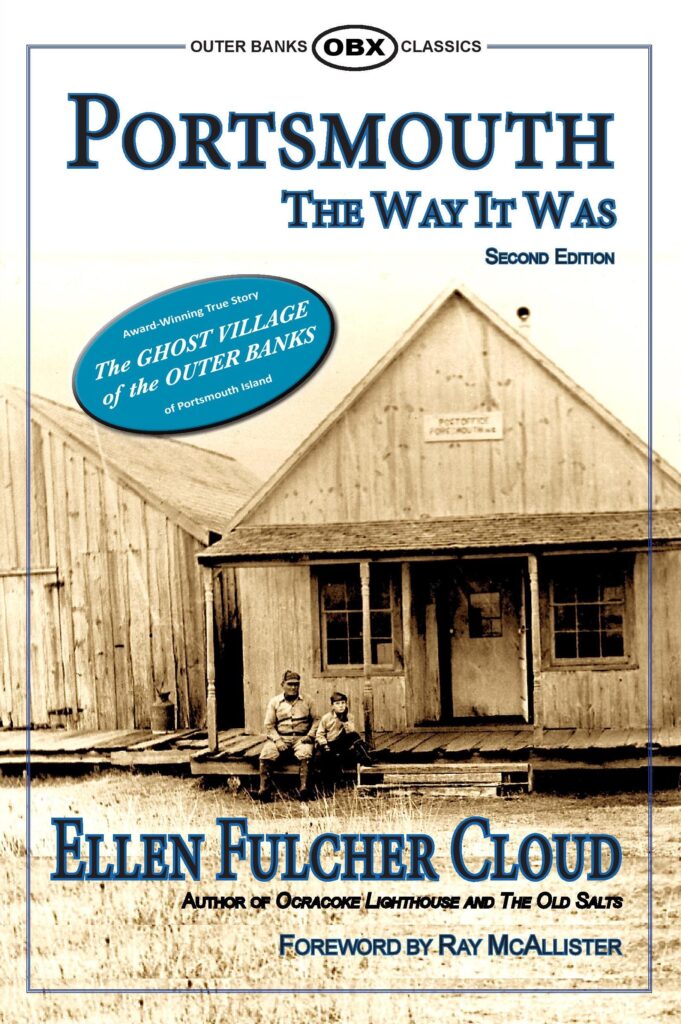 Beach Glass
SEPTEMBER 2021 BOOK OF THE MONTH
PORTSMOUTH, the Outer Banks classic, now in paperback!
NEW in Paperback!
The Award-Winning True Story of
the "Ghost Village of the Outer Banks"
*
---
Beach Glass
MARCH 2021 BOOK OF THE MONTH
TOPSAIL ISLAND publishes in 2nd Edition!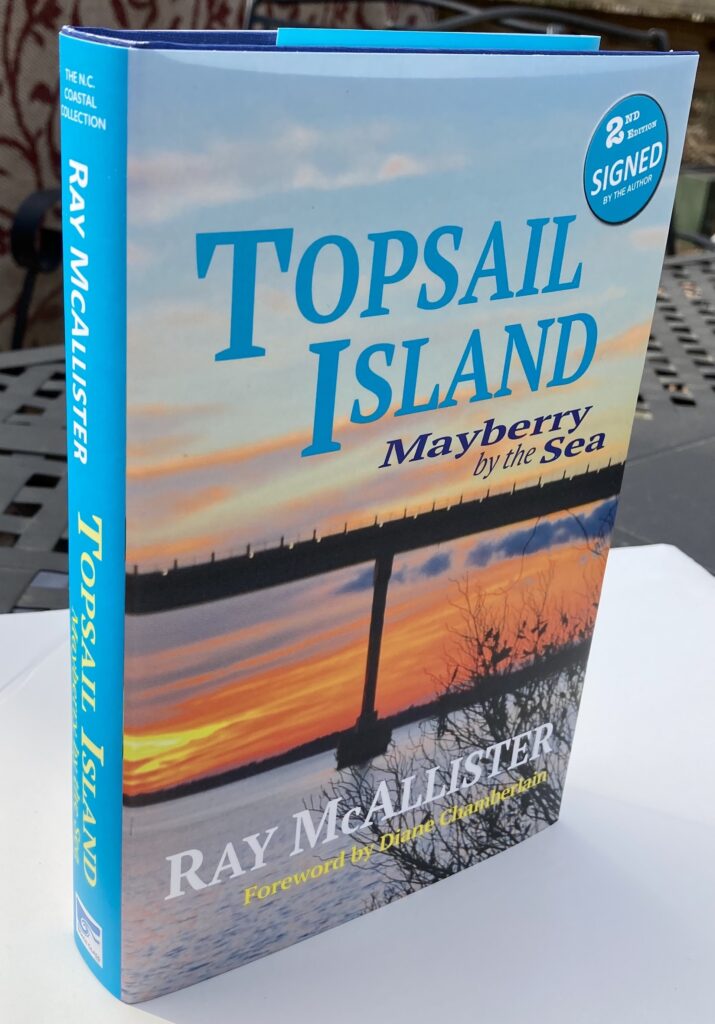 MARCH 2021. Beach Glass Books announces award-winning "TOPSAIL ISLAND: Mayberry by the Sea" by Ray McAllister has been published in an updated and expanded 2nd Edition, available in hardcover (signed), paperback, and eBook editions.
"This second edition is a breeze, a quick lively read that really gives you that take-you-there feeling for this North Carolina barrier island. You can simply sit back and enjoy new adventures of Topsail. . . . This version has all the components for another regional best-seller, especially entertaining for those newcomers of recent years." READ MORE

— KALE ON BOOKS syndicated newspaper column
*
---
*
---
Beach Glass
JANUARY 2021 BOOK OF THE MONTH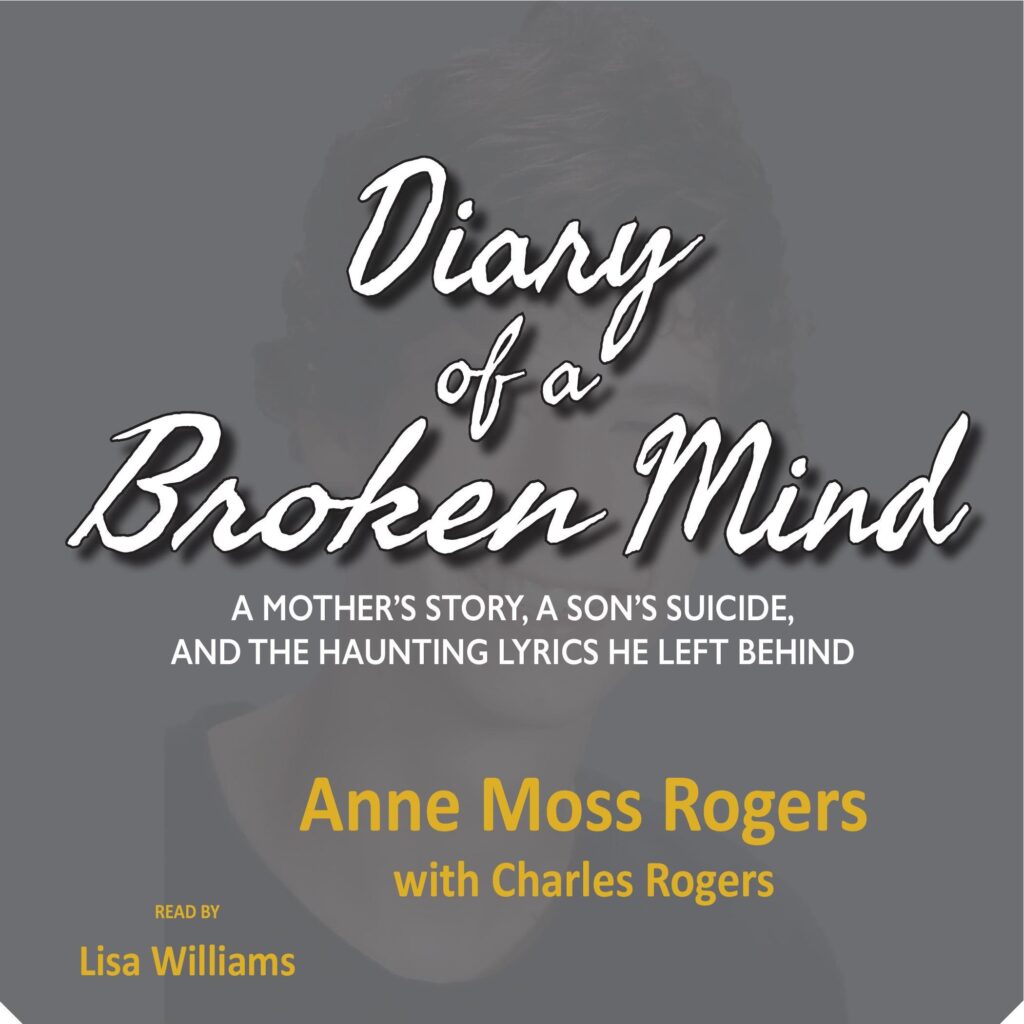 Anne Moss Roger's powerful award-winning memoir, DIARY OF A BROKEN MIND: A Mother's Story, a Son's Suicide, and the Haunting Lyrics He Left Behind, is now available in Audiobook, voiced by Lisa Williams! To hear a sample and/or to get the audiobook FREE with trial membership, visit Audible.
Signed paperbacks available with Free Shipping.
*
---
HATTERAS ISLAND: Keeper of the Outer Banks, 2nd Edition now also in PAPERBACK and AUDIO BOOK!
Beach Glass
JULY 2020 BOOK OF THE MONTH
HATTERAS!
Ray McAllister's award-winning Hatteras Island: Keeper of the Outer Banks is, as he puts it, "a conversation with an island." And what an island. Hatteras Island is the quintessential Outer Banks, with a rich history of pirates, shipwrecks, hurricanes, as well as beautiful beaches and family vacations. And of, course, that world-famous Cape Hatteras Lighthouse. The new 2nd Edition includes new bridges, hurricanes, a distress call from the Titanic and even a short-lived new island.
New for 2020: The Paperback. And The Audio Book.
Signed hardcovers and now paperbacks available with Free Shipping.
To hear a sample and learn how to get a free copy of the audiobook, CLICK HERE
*
---
Beach Glass
APRIL BOOK OF THE MONTH
"Sandberg's humor strikes universal chords, from small ukulele strings to rich double bass." – Boomer magazine
In hardcover & eBook editions
The Most ENTERTAINING
OUTER BANKS
Book EVER!
*
---
Beach Glass
MARCH BOOK OF THE MONTH
The award-winning print book adds audio books and eBooks!
The award-winning "THE SENATOR'S SON: The Shocking Disappearance, The Delebrated Trial, and the Mystery That Remains a Century Later," by Charles Oldham, is now in AUDIO BOOKS and EBOOKS.
Get your Audiobook, read by actor John Witt. To hear a sample learn how to get the audiobook FREE, CLICK HERE.
Or get your eBook on Amazon Kindle, Barnes & Noble Nook, and other e-readers: DETAILS
Or get your signed print copy now with FREE mailing. DETAILS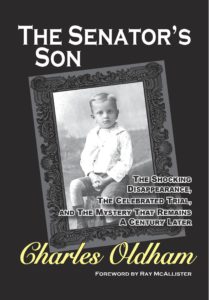 The Shocking Disappearance, The Celebrated Trial, and The Mystery That Remains a Century Later
BY CHARLES OLDHAM
Foreword by Ray McAllister
"Fascinating … murky … The Senator's Son is local history at its finest." – DEAN KING, best-selling author
"The book is craftily written, deeply researched, and will stick to your hands like a lantern during this dark, raveled Southern tale of disappearance." – DAVID L. ROBBINS, best-selling author
"A vibrant, engrossing true tale … both educational and nearly impossible to stop reading." – Diane Donovan, MIDWEST BOOK REVIEW
*
---
The Magic of Topsail Island,
the award-winning children's book, is back in print in a new, enlarged edition. Pick up this enchanting tale by Lindsay McAllister Zarse, with enlarged drawings by acclaimed artist Brian Martin.
New printing now available! GET YOURS with FREE SHIPPING.
And don't forget Lindsay McAllister Zarse's other great children's books: MISSING! A Topsail Turtle Tale and Pirates on Friday. All with free shipping.
*
---
WRIGHTSVILLE BEACH: The Luminous Island now available in AUDIOBOOK, read by actor John Witt.
To hear a sample and learn how to get a FREE copy of the audiobook, CLICK HERE
*
---
Ocracoke Lighthouse
and
The Old Salts
BY ELLEN FULCHER CLOUD
Foreword by Ray McAllister
2 BOOKS IN 1!
Companion to Portsmouth: The Way It Was
*
---
You've Waited!
Flights of Fancy, Randy & Barb's Humor Book, Is Here!
Beach Glass Books is proud to announce the publication of Randy and Barbara Fitzgerald's book of humor columns, Flights of Fancy.
The book of award-winning columns includes a foreword by Ray McAllister, illustrations by Douglas Payne, and numerous family photographs. Get your signed copy at one of their signings, or ORDER NOW with FREE mailing.
*
---
New Wrightsville Edition launches!
The expanded and enhanced 2nd edition of the award-winning Wrightsville Beach: The Luminous Island was published with a large kickoff event at the Wrightsville Beach Museum of History.
NEW!
WRIGHTSVILLE BEACH now has larger pages & twice the photos, a new foreword by Ben Steelman, and a new author afterword
Just $22.95 with FREE SHIPPING! For more on the book, or to order a copy, CLICK HERE.
*
---
NOW AVAILABLE: The enhanced edition of Ray McAllister's Ocracoke: The Pearl of the Outer Banks — with larger pages and photographs, 32 additional photographs, and signed by the author — is now published.
The new edition is available in hardcover format for $22.95.
Ocracoke is the fourth book in the author's North Carolina coastal series. Ocracoke shares a look at the history, people and continuing allure of the remote, white-sanded island that draws tens of thousands of visitors each year. New illustrations focus on Blackbeard, the Ocracoke lighthouse and 20th century island life, bringing to more than 150 the book's black-and-white illustrations. They also enhance the book's positions as one of the Outer Banks' best-selling memento books and gift books.
Available at most Outer Banks booksellers, selected North Carolina and Virginia stores, and online sellers, including the author's web site, www.RayMcAllister.com.
---
2020 Beach Glass Books
Affiliated with Ray McAllister Books LLC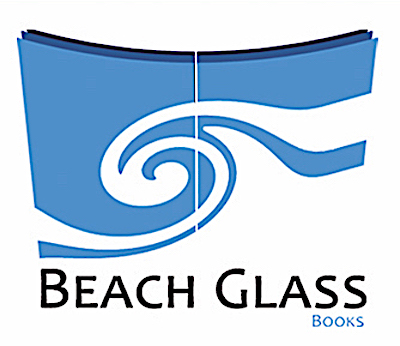 New review for
*
---