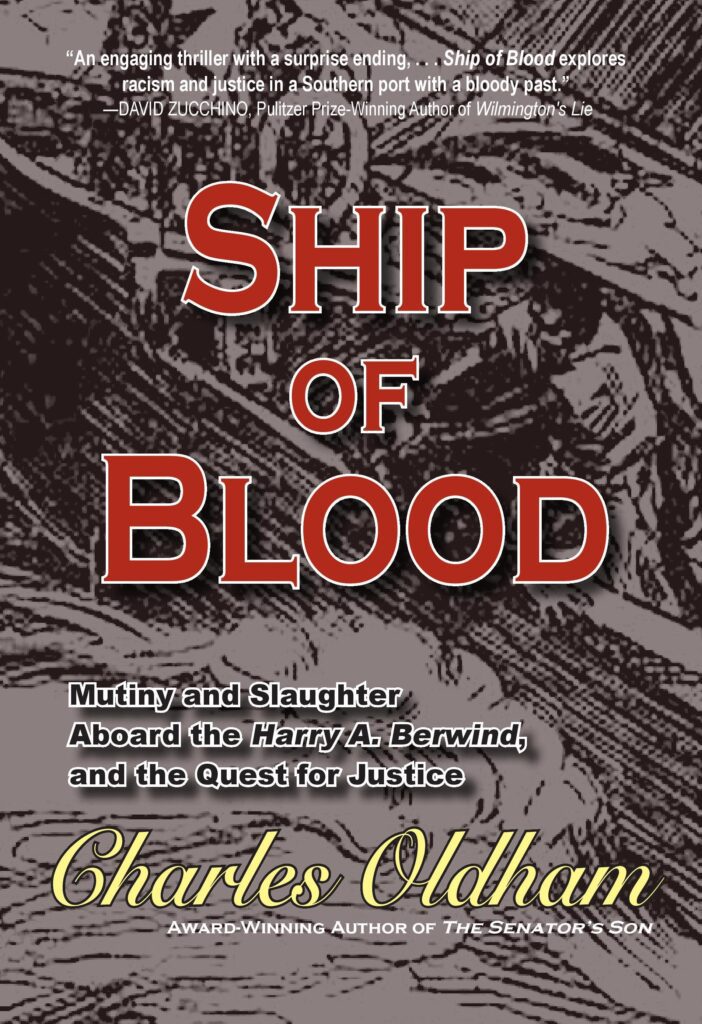 One of 2022's Most Talked-About True Crime Thrillers
Signed Hardcover
BY CHARLES OLDHAM
Award-Winning Author of THE SENATOR'S SON
---
SHIP of BLOOD
ON AN OCTOBER NIGHT IN 1905, a horrifying scene was found on a wooden vessel off the coast of Cape Fear, North Carolina. Onboard the Harry A. Berwind, one crewman lay dead, his blood streaming down the deck. The four officers all were gone—murdered, too, it would turn out, their bodies dumped into the sea. Only three sailors remained alive, one tied up, all telling different stories, all blaming each other. The three sailors were Black. The dead officers were white.
So began a legal spectacle that would captivate much of the nation's press and fuel a sensational trial in Wilmington. It was in Wilmington, after all, that shocking racial violence had occurred not long before, and now the city remained in the clutches of white supremacists. Most observers could have predicted a quick verdict and a triple hanging . . . if not an even quicker lynching.
Yet the legal drama would defy predictions, lasting seven years, reaching the Supreme Court, pulling in presidents Teddy Roosevelt and William Howard Taft—then even being twisted into a fanciful, big-budget movie. In the end, so many participants—from jurors to lawyers to politicians—acted against type that justice had a fighting chance.
Now from Charles Oldham, attorney and award-winning author of The Senator's Son, comes the first full account of this fascinating true tale. Beach Glass Books proudly announces the publication of Ship of Blood. Powerfully presented, it is a book not to be missed.
*
"An engaging thriller with a surprise ending, . . . Part murder mystery and part courtroom drama, Ship of Blood explores racism and justice in a Southern port with a bloody past."
—DAVID ZUCCHINO, Pulitzer Prize-Winning Author of Wilmington's Lie
*
"Charles Oldham unspools the complex mystery of guilt or innocence with a deft hand, artfully embedding the events of the crime within the rich history of a region fraught with conflict in an era of deadly social upheaval. A terrific read."
—PHILIP GERARD, Author of Cape Fear Rising and Winner of the North Carolina Award for Literature
*
"Murder on the high seas: The story drew headlines in The New York Times, The Washington Post and other papers, who sent reporters to Wilmington to cover it. … What happened? Determining that would be the focus of two of the highest-profile trials ever held in Wilmington. Charlotte criminal lawyer Charles Oldham retells the story in his new book "Ship of Blood: Mutiny and Slaughter Aboard the Harry A. Berwind and the Quest for Justice. … [It] never bores."
—BEN STEELMAN, Wilmington StarNews
*
Or order Ship of Blood BOOK at:
NOTE: To order a SIGNED COPY ON AMAZON, you MUST choose sellers Beach Glass Books or Ray McAllister Author-Signed Books
*
Or download Ship of Blood EBOOKS:
*
Or download Ship of Blood AUDIOBOOKS, read by actor John Witt:
*