The Funniest Outer Banks Book EVER
"5 STARS. Highly recommend."
"The Funniest Writer in America."
FREE SHIPPING

MAIL: Send payment to Ray McAllister Books LLC, P.O. Box 72672, North Chesterfield, VA 23236.
ONLINE: See link above, or visit Indiebound.org, Barnes & Noble, Amazon and other book-selling sites.

STORES: Uncle Jack's Outer Banks is in many Outer Banks stores. (Other stores, please contact Beach@RayMcAllisterBooks.com.)
eBOOKS: Visit Barnes & Noble, Kobo, Amazon, and other eBook sites.
UNCLE JACK'S OUTER BANKS
The Ultimate Collection

BY JACK SANDBERG
Introduction by Ray McAllister

LONG THE FUNNEST, AND SAVVIEST, commentator on North Carolina's beloved Outer Banks, "Uncle Jack" Sandberg is back with the ultimate collection of hilarious — and on-the-mark — observations, supplemented by the work on great cartoonists.
Sandberg dispenses stories, advice, criticism, annoyance, warnings, insight, and always laughs, about this narrow strand of islands that has become one of America's premier vacationlands. From Corolla to Hatteras Island, with stops at Manteo, his beloved South Nags Head, and all spots in-between, Uncle Jack does indeed own the Outer Banks.

          UNCLE JACK'S OUTER BANKS: The Ultimate Collection, is available up and down the Outer Banks and from online sellers. With 69 essays and 22 cartoons, this the perfect gift or memento for anyone who loves the Outer Banks or just likes to laugh. It is, as Uncle Jack says, "a pretty funny book."

 •
PRAISE FOR UNCLE JACK:
"5-STAR REVIEW. Full of wit, charm, and humor, Uncle Jack's Outer Banks: The Ultimate Collection will make you laugh and warm your heart through slice-of-life stories dipped in sarcasm, irony, satire, and a heavy dose of nostalgia. Every single essay or letter is laced in absurdity but contains an underlying voice that cuts through and makes a clear and concise statement about the relevant topic. . . . Odds are, you'll have a blast reading it. Highly recommended." – READERSFAVORITE.COM
"[I assumed] OBX-loving readers would enjoy the book. And they will. But I quickly recognized that anyone can enjoy the humor and insight behind this Jack Sandberg collection." – BOOMER MAGAZINE

"Anyone who has an OBX sticker on his car is apt to know of Uncle Jack … an inventive and funny fellow. Uncle Jack pokes gentle fun at tourists and not-too-subtle fun at real estate sales persons. … As refreshing as a breeze off the surf." – NEWPORT NEWS DAILY PRESS

"The funniest writer in America." – HUMORIST ROBERT SKOGLUND

"It is a very funny and … very wise book." – RALEIGH NEWS AND OBSERVER
 •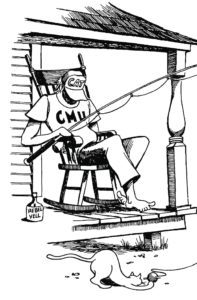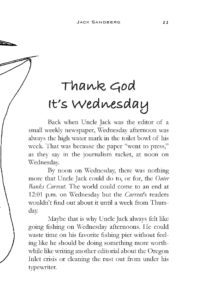 ---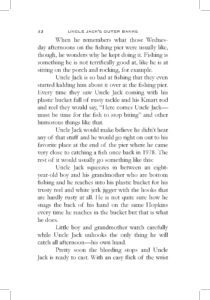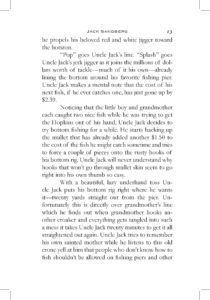 ---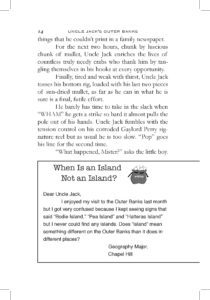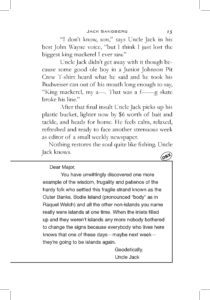 ---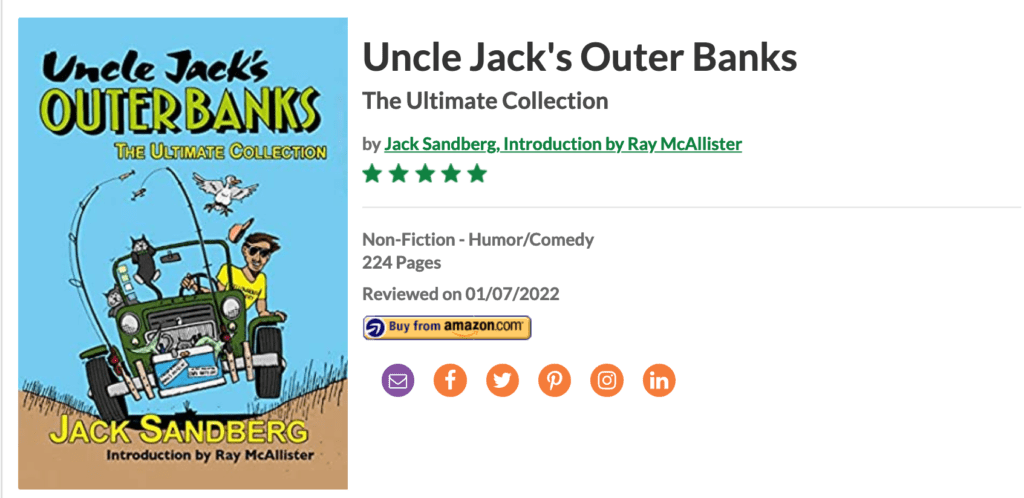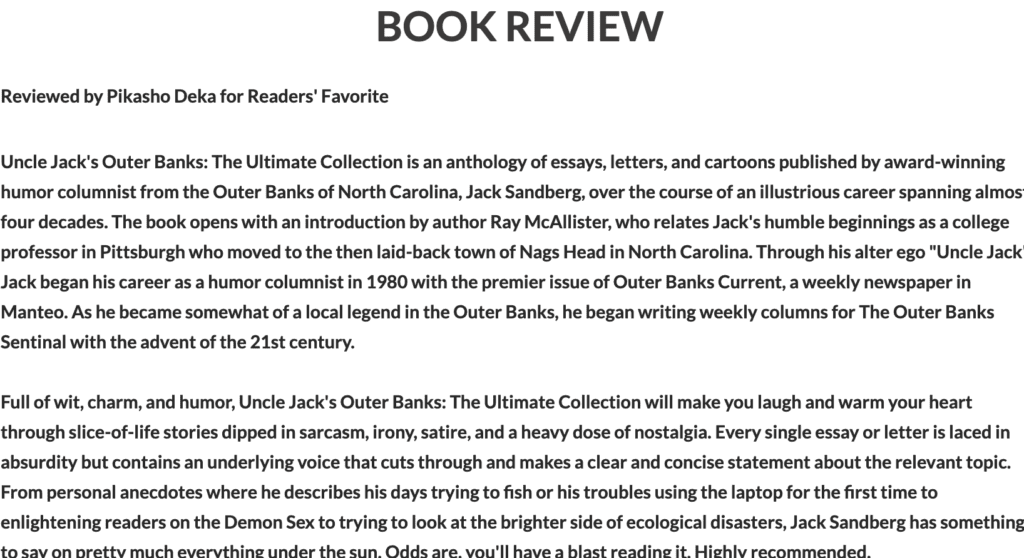 ReadersFavorite.com, 2022
---