NEW! Words & Music by Philip Gerard
NEW FOR FALL 2023!
Sales Underway
---
ORDER HERE
---
[Independent booksellers, please contact Sales@RayMcAllisterBooks.com.]
Or order Words & Music PRINT BOOKS at:
*available soon
Order Words & Music eBOOKS at:
---
Book Launch and Music
3-4:30 p.m., Sat., Sept. 30
Cameron Art Museum
3201 South 17th Street, Wilmington, North Carolina 28412, (910) 395-5999
Books available for purchase
FREE American Anthem CD with each book purchases, while supplies last. (CD details below.)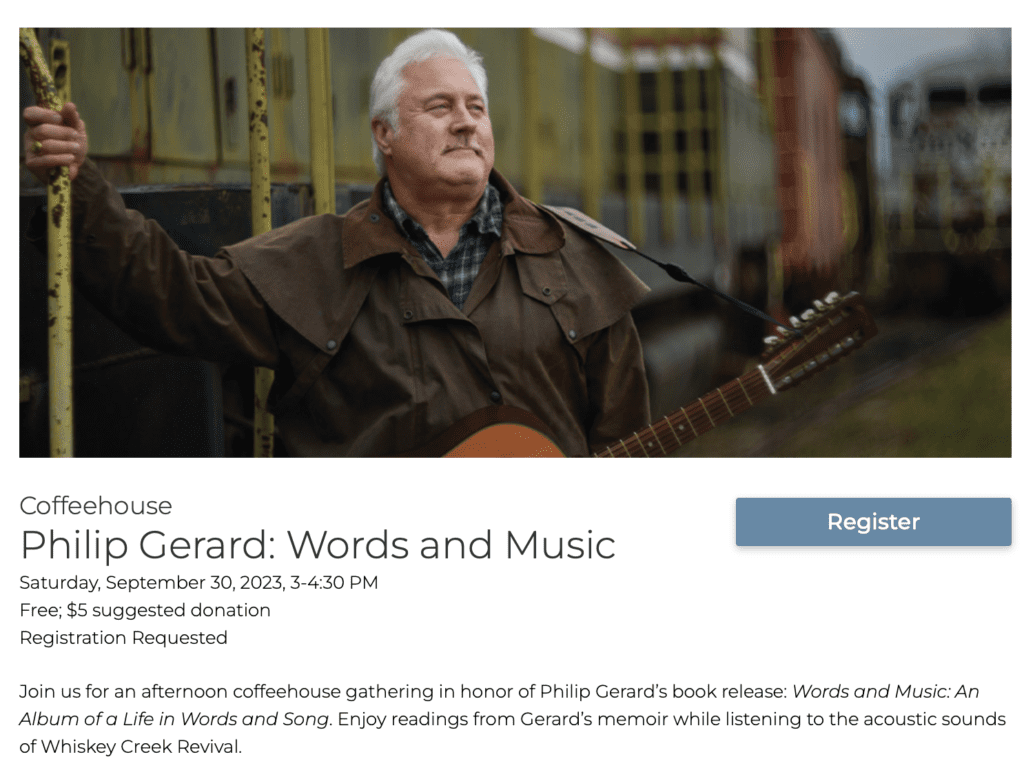 ---
•
"Words & Music is a work of honesty, hope, and harmony

that only Philip Gerard's keen skills could create.

This is the story of a life, told with elegance and craft,

that all readers owe it to themselves to read."

—JASON MOTT, National Book Award-Winning Author of Hell of a Book
•
ONE RAINY AFTERNOON, sixth grader Philip Gerard sat down and made a list of ten things he wanted to do: Go to Alaska. Write a book. Sail the ocean. And so forth. A virtual outline of a life.
The legendary writer would check off most items during his lifetime, some many times over. But Number Ten remained elusive, a quest unfulfilled:
Make a record album.
Gerard had been learning to play his first instrument, the guitar, when he made the list. Song-writing was well in his future. Years passed and his experiences added up. Country-wide travels. Books and more books. Literary honors piled on top of one another. Teaching and mentorships. Songs and more songs. Gigs and more gigs. Half a century after jotting down his list, he would begin the album of a lifetime. He and a cadre of top musicians headed into the studio and on tour with fifteen of his songs. The acclaimed American Anthem emerged.
So, too, would this memoir of how it all happened. How life happened.
Beach Glass Book proudly announces the publication of WORDS & MUSIC. Written shortly before Philip Gerard's passing, it is, in a sense, not one book but three. Gerard has left us the story of an album, the story of a literary life, and the inspiring story of a dream finally made real.
•
"In Words & Music, Philip Gerard writes down his

heart and soul. It's a book about how an artist embraces

art, lives art, writes art, thinks art, and presents art—

in this case, music. In Gerard's many books you find

history, and adventure, and a search for justice.

And in this one, you find Philip."

—CLYDE EDGERTON, author of The Night Train and Redeye.
---
In new memoir 'Words and Music,' late Wilmington writer Philip Gerard takes a bow
Wilmington StarNews, Sept. 15, 2023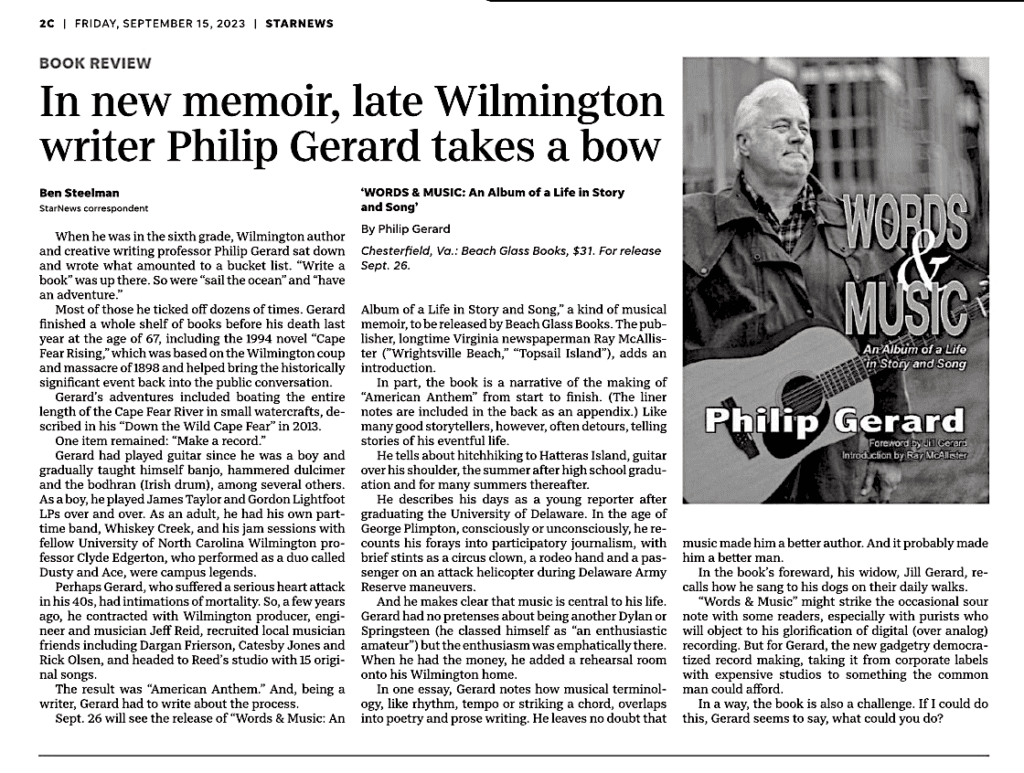 ---
Companion book to
AMERICAN ANTHEM
SONGS COMPOSED BY PHILIP GERARD
1. When I'm Gone.
2. Under Cape Hatteras Light.
3. Robert Johnson and the Devil.
4. The Patron Saint of Dreams.
5. Captain Parker's Lament.
6. Lunch in a Basket.
7. Kansas City in the Rain (The Ballad of Tom Brody).
8. The Great Wide Open.
9. Old Flatwheeler.
10. Song for My Father.
11. Far Away: An American Anthem.
12. Delivering the Mail.
13. Let Us Cross Over the River.
14. Arizona Night.
15. Amelia.
---